Techno-Press Journals
Home

Editor-in-Chief
Prof. Chang-Sik Ha


Dept. of Polymer Sci. & Eng.
Pusan National University
Pusan 46241, South Korea



Associate Editors

Prof. Lidong Li


School of Materials Sci. & Eng.
University of Sci. & Tech. Beijing
Beijing 100083, China

Prof. Fatih Dogan


Dept. of Secondary Sci. Math. Education
Canakkale Onsekiz Mart University
Canakkale 17100, Turkey

Prof. Patrice Berthod


Dept. of Chem. and Phys. of Solids & Surfaces
University of Lorraine
54506 Vandoeuvre-Les-Nancy, France

Prof. Scott Mao


Dept. of Mech. Eng. & Mater. Sci.
University of Pittsburgh
Pennsylvania 15260, USA

Prof. Peter Foot


Dept. of Mater. Chem.
Kingston University
Kingston KT1 2EE, UK


Managing Editor
Prof. Chang-Koon Choi


Korea Advanced Institute of Science & Technology
Daejeon 305-701, Korea




ESCI


SCOPUS CiteScore: 3.8 (2020)


ISSN: 2234-0912(Print), ISSN: 2234-179X(Online)


Vol.10(4 issues) for 2021, Quarterly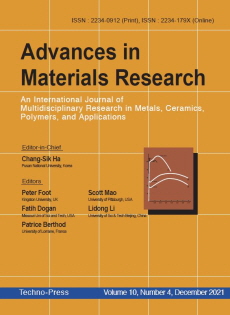 Aims and Scope

The Advances in Materials Research (AMR), An International Journal, aims at opening a new access to information about the current advances in interdisciplinary materials research and providing an excellent publication channel for the global community of materials research. The areas covered by AMR journal include the interdisciplinary research in;

* Metals,
* Ceramics,
* Polymers,

with applications in Electrical, Biochemical Materials, and Nano Structural Materials.

Editorial Board

Dr. MH Asgahar
University of the Punjab
Lahore 54590, Pakistan

Prof. Bjorn Birgisson
Texas A&M University
USA

Prof. Tamer Abdallah Maaddawy
United Arab Emirates University
UAE

Dr. JI Alvarez
University of Navarra
Pamplona 31080, Spain

Dr. Y Bar-Cohen
Jet Propulsion Lab/Caltech/NASA
Pasadena, CA 91109, USA

Prof. C Chen
National Chiao Tung University
Hsin-Chu 30010, Taiwan

Prof. LQ Chen
Northeastern University
Shenyang 110819, China

Prof. SW Chen
National Tsing Hua University
Hsinchu 30013, Taiwan

Dr. S Choi
NASA Langley Research Center
Hampton, VA 23681-2199, USA

Prof. LA Dobrzanski
ASKLEPIOS
Gliwice, Poland

Prof. AA Elmustafa
Old Dominion University
Norfolk, USA

Prof. Bayraktar Emin
University of Campinas
UNICAMP-SP, Brazil

Dr. JMF Ferreira
CICECO University of Aveiro
Aveiro 3810-193, Portugal

Prof. Tahar Hassaien Daouadji
Ibn Khaldoun U.
14000, Tiaret, Algeria

Prof. Fabiano Severo Rodembusch
Universidade Federal do Rio
Grande do Sul
Porto Alegre, Brazil

Prof. Francis Verpoort
Ghent University
Belgium

Prof. MS Gaur
Hindustan College of Science
and Technology
India

Prof. DH Kim
Yonsei University
Seoul 120-749, South Korea

Dr. XH Lu
Nanyang Technological University
639798, Singapore

Prof. Moosa Mazloom
Shahid Rajaee U.
Lavizan, Tehran, Iran

Dr. Nitish Mittal
University of Minnesota
Minneapolis, Minnesota, USA

Prof. EJ Mittemeijer
University of Stuttgart
Stuttgart, D-70569, Germany

Dr. D Mukherji
Braunschweig Univ. of Technology
Braunschweig, D-38106, Germany

Prof. M Nygren
University of Stockholm
Stockholm 10691, Sweden

Prof. BS Yilbas
King Fahd Univ. of Petrol. & Miner.
Dhahran 31261, Saudi Arabia

Prof. M Yoshimura
National Cheng Kung University
Tainan 70101, Taiwan

Prof. J Zhang
Los Alamos National Laboratory
Los Alamos, NM 87545, USA

Dr. LC Zhang
Edith Cowan University
Perth, WA 6027, Australia

Prof. Y Zhang
Univ. of Sci. and Tech. Beijing
Beijing, 100083, China

Prof. X Yao
Griffith University
Queensland 4111, Australia

Dr. C Karunakaran
Annamalai University
Annamalainagar 608002, India

Prof. Li Hui
Shandong University
Jinan, China

Prof. Young Gun
Yeungnam University
Gyeongsan, Korea

Prof. Saulius Grigalevicius
Kaunas University of Technology
Kaunas, Lithuania

Dr. SK Pabi
Indian Inst. of Tech. Kharagpur
Kharagpur, 721302, India

Dr. M Paranthaman
Oak Ridge National Laboratory
Oak Ridge, TN 37831-6100, USA

Dr. Mazeyar Parvinzadeh Gashti
Cover For All
Kelowna, BC, Canada

Dr. M Pracella
University of Pisa
Pisa 56122, Italy

Dr. M Shahinpoor
University of Maine
Orono, ME 04469-5711, USA

Dr. A Sodergard
Laboratory of Polymer Technology
Turku 20500, Finland

Prof. GB Song
University of Houston
Houston, TX 77204-4006, USA

Prof. Ramesh Singh
University Malaysia
50603 Kuala Lumpur, Malaysia

Prof. TS Srivatsan
The University of Akron
Akron, OH 44325-3903, USA

Dr. VV Tsukruk
Georgia Institute of Technology
Atlanta 30332-0245, USA

Prof. J Wang
Purdue University
W. Lafayette, IN 47907-2021, USA

Prof. NM Wereley
University of Maryland
College Park, MD 20742, USA

Prof. YW Yang
Nanyang Technological University
Nanyang 639798, Singapore

Prof. MJ Jackson
Purdue University
W. Lafayette, IN 47907-2021, USA

Prof. JW Jiang
National University of Singapore
117576, Singapore

Prof. HJ Jung
Korea Adv. Inst. of Sci. & Tech.
Daejeon 305-701, South Korea

Prof. Y Kagawa
The University of Tokyo
Tokyo 153-8904, Japan






Guide to Authors (Last updated: Oct 27, 2020)
1. Submission of the paper
Authors are asked to submit manuscripts in PDF (or Latex) format electronically through the Techno-Press Manuscript Upload System (TeMUS) (http://www.techno-press.com/papers). Exceptionally, the special issue papers may be directly submitted to the Guest Editor. If you have difficulties in using TeMUS, please contact us at[amr@techno-press.com]. On receiving submitted papers, the system will issue the paper ID and Password to the corresponding author which may be conveniently used to check the status of submitted papers. Authors should carefully check if their paper satisfied all the requirements in the preliminary list before submission.

2. Preparation of the manuscript
General : The manuscripts should be in English and typed with single column and single line spacing on single side of A4 paper. Submitted papers will be published in regular technical paper only. The first page of an article should contain; (1) a title of paper which well reflects the contents of the paper (Arial, 16pt), (2) all the name(s) and affiliations(s) of authors(s) (Arial, 12pt), (3) an abstract of 100~250 words (Times New Roman, 11pt), (4) 5-10 keywords following the abstract, and (5) footnote (personal title and email address of the corresponding author (required) and other authors' (not mandatory)). The paper should be concluded by proper conclusions which reflect the findings in the paper. The normal length of the technical paper should be about 12-24 journal pages. Authors are advised to read the details in the Authors' Guide for guide and Template.
Tables and figures : Tables and figures should be consecutively numbered and have short titles. They should be referred to in the text as following examples (e.g., Fig. 1(a), Figs. 1 and 2, Figs. 1(a)-(d) / Table 1, Tables 1-2), etc. Tables should have borders (1/2pt plane line) with the captions right before the table. Figures should be properly located in the text as an editable image file (.jpg) with captions on the lower cell. All of the original figures and tables are required to be placed at the suitable locations in the text.
Units and mathematical expressions : It is desirable that units of measurements and abbreviations should follow the System Internationale (SI) except where the other unit system is more suitable. The numbers identifying the displayed mathematical expression should be placed in the parentheses and referred to in the text as following examples (e.g., Eq. (1), Eqs. (1)-(2)). Mathematical expressions must be inserted as an object (set as Microsoft Equations 3.0) for Microsoft Word 2007 and after versions. Image-copied text or equations are not acceptable unless they are editable. The raised and lowered fonts cannot be used for superscription and subscription.
References : A list of references which reflect the current state of technology in the field locates after conclusions of the paper. For details to prepare the list of references and cite them in the text, authors are advised to follow the introduction and the sample list in the Authors' Guide.

3. Review
All the submitted papers that have passed the preliminary check by the editors will undergo a rigorous peer-review process to judge their significance and originality. Those papers positively recommended by at least two expert reviewers will be finally accepted for publication in the Techno-Press Journals or after any required modifications are made.

4. Proofs
Proofs will be sent to the corresponding author to correct any typesetting errors. Alterations to the original manuscript will not be accepted at this stage. Proofs should be returned within 48 hours of receipt.

5. Copyright
Submission of an article to a Techno-Press Journal implies that it presents the original and unpublished work, and not under consideration for publication elsewhere. On acceptance of the submitted manuscript, it is implied that the copyright thereof is transferred to the Techno-Press. The Agreement of Authorship, Originality, and Copyright Transfer must be signed and submitted.


6. Ethics
General: Techno-Press applies research and publication ethics standards based on COPE's International Standards for Editors and Authors (https://publicationethics.org/node/11184). Violation of publication ethics will result in the activation of COPE flow chart. (https://publicationethics.org/guidance/Flowcharts)
Authorship: Authors are encouraged to check ICMJE's guideline for authorship. (http://www.icmje.org/icmje-recommendations.pdf). Authorship problems will be dealt with according to COPE flowcharts. (https://publicationethics.org/authorship)


Sample issue
Volume 1, Number 1, March 2012
Table of Contents
| | | | |
| --- | --- | --- | --- |
| | | | |
| | | 2021 Volume 10 No. 1 | No.2 No.3 |
| | | 2020 Volume 9 No. 1 | No.2 No.3 No.4 |
| | | 2019 Volume 8 No. 1 | No.2 No.3 No.4 |
| | | 2018 Volume 7 No. 1 | No.2 No.3 |
| | | 2017 Volume 6 No. 1 | No.2 No.3 No.4 |
| | | 2016 Volume 5 No. 1 | No.2 No.3 No.4 |
| | | 2015 Volume 4 No. 1 | No.2 No.3 No.4 |
| | | 2014 Volume 3 No. 1 | No.2 No.3 No.4 |
| | | 2013 Volume 2 No. 1 | No.2 No.3 No.4 |
| | | 2012 Volume 1 No. 1 | No.2 No.3 No.4 |
| | | | |
Subscription
2021 Subscription Rates
USD

Advances in Materials Research
Volume 10 (4 issues)

Print +e
Online +c

Airmail*

Institutional Subscription

398

300

+35

Orders are accepted by calendar year only.

1. PRINT+e: Print plus Free Access to the current online articles for the length of subscription until the subscription ends.
2. ONLINE+c: Access to the current online articles plus Complimentary Access to the articles since the start of journal or as specified otherwise. The access to the articles of paid subscription period will be guaranteed after termination of subscription.
3. Personal Subscription Rates : Please inquire at subs@techno-press.com.